Please welcome author Sarah Hovorka and author/illustrator Skylaar Amann to Dynamic Book Duos– a blog featuring two books that pair together in a meaningful way along with educational activities to strengthen reading skills.
Perfect Pairings
Hattie Hates Hugs written by Sarah Hovorka and illustrated by Heather Brockman Lee & Smile Sophia written and illustrated by Skylaar Amann.
Hattie and Sophia are two stand-up girls who know how to stand up for themselves. Resisting grown-ups' direct or indirect demands to hug or smile when they don't want to, these girls show readers how to be the boss of their own bodies while going for the goals they really care about.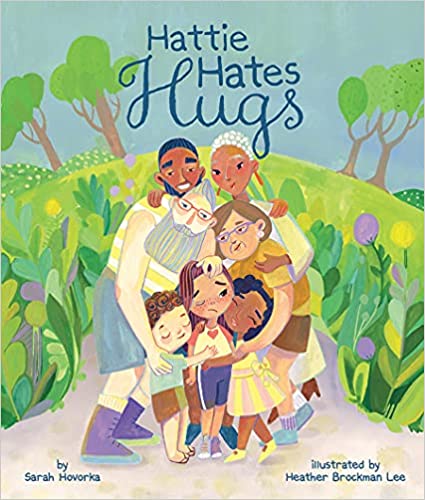 Hattie loves her family, but she hates hugs!
While at a family reunion, Hattie wants to play horseshoes with Uncle Jake and Aunt Celia, but her boisterous relatives keep hugging her. Hattie's stomach squirms uncomfortably when she's hugged but dodging and hiding from the open arms isn't working. Great-Grandma is the only relative who understands how Hattie feels. With Great-Grandma's help, Hattie learns to use simple but clear body language with verbal reinforcement to set boundaries around her personal space and to assert her right to consent to physical touch. And she even wins a game of horseshoes!
This picture book will teach huggers and non-huggers alike the importance of respecting people's personal boundaries and provides an example of how to advocate for yourself with confidence.
www.sarahhovorka.com
In Smile, Sophia, a smart, relatable picture book by author-illustrator Skylaar Amann, a serious dino-loving little girl just doesn't feel like smiling…and that's okay.
Sophia loves finding fossils and digging up dinosaur bones. But she doesn't love the way all the grown-ups just want her to smile. What does smiling have to do with the very serious business of being a scientist?!
She'll smile when she has something to smile about!

In this picture book by Skylaar Amann, a young girl shows that being strong, and smart, and really good at what she does is more than enough―and if she smiles, it's because she wants to!
www.skylaaramann.com
Educational Activities
Get creative with Hattie Hates Hugs
Hattie's story is just that… Hattie's story. Would this story have been the same if it was told from any of the other character's perspectives? How might this story be told from Cousin Luis' perspective? What about Aunt Judy? What about your child's?
Understanding perspective is more than an important school skill, it's an important life skill. Spark children's imaginations with these prompts and encourage them to put themselves in another's shoes. This activity can be done orally to practice speaking skills or written to practice handwriting skills. Kids will likely want to illustrate their written stories, too.
Explore the natural world with Smile, Sophia
Read the back matter in Smile, Sophia to learn about some of the paleontological and scientific elements of Sophia's world. The back matter includes dinosaurs, people, and fossils that can all be found in the illustrations of the book, along with a few facts about each. Go on a treasure hunt to find each illustration in the book and use the facts as a jumping-off point to learn more about fossils and science at your local library and museum.
Budding paleontologists can use the last page of Smile, Sophia as inspiration for building their own tool kit to find, dig, and examine fossils.
Hattie and Sophia–Stand-Up Girls—Comprehension Questions
1. How would you classify each story (fiction, nonfiction, informational fiction) and why?
2. How are Hattie and Sophia alike?
3. How are Hattie and Sophia different?
4. What does it mean to be a stand-up girl?
5. How does each girl stand up for what she believes in?
6. What personality traits help you stand up for yourself? How do they
7. What is something you would like to stand up for and why is it important to you?