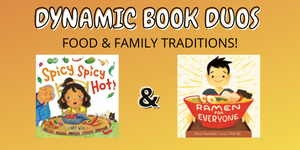 Please welcome authors/illustrators Patricia Tanumihardja, Shiho Pate, and Lenny Wen to Dynamic Book Duos– a blog featuring two books that pair together in a meaningful way along with coordinating educational activities to strengthen reading skills. This week's Dynamic Book Duos pairing highlights the joy of intergenerational relationships and the importance of food as a way to carry on family traditions.
PERFECT PAIR: Food, Family Traditions, and Intergenerational Relationships
Paired together, Ramen for Everyone by Patricia Tanumihardja and Shiho Pate and Spicy Spicy Hot! by Lenny Wen offer a great opportunity to discuss and highlight the joy of intergenerational relationships and the importance of food as a way to carry on family traditions. Hiro is determined to make a perfect bowl of ramen just like his dad. Lintang is determined to enjoy the sambal that her nenek makes despite how spicy it is. Both stories are also about the love shared between family and not giving up.
Book 1: Ramen for Everyone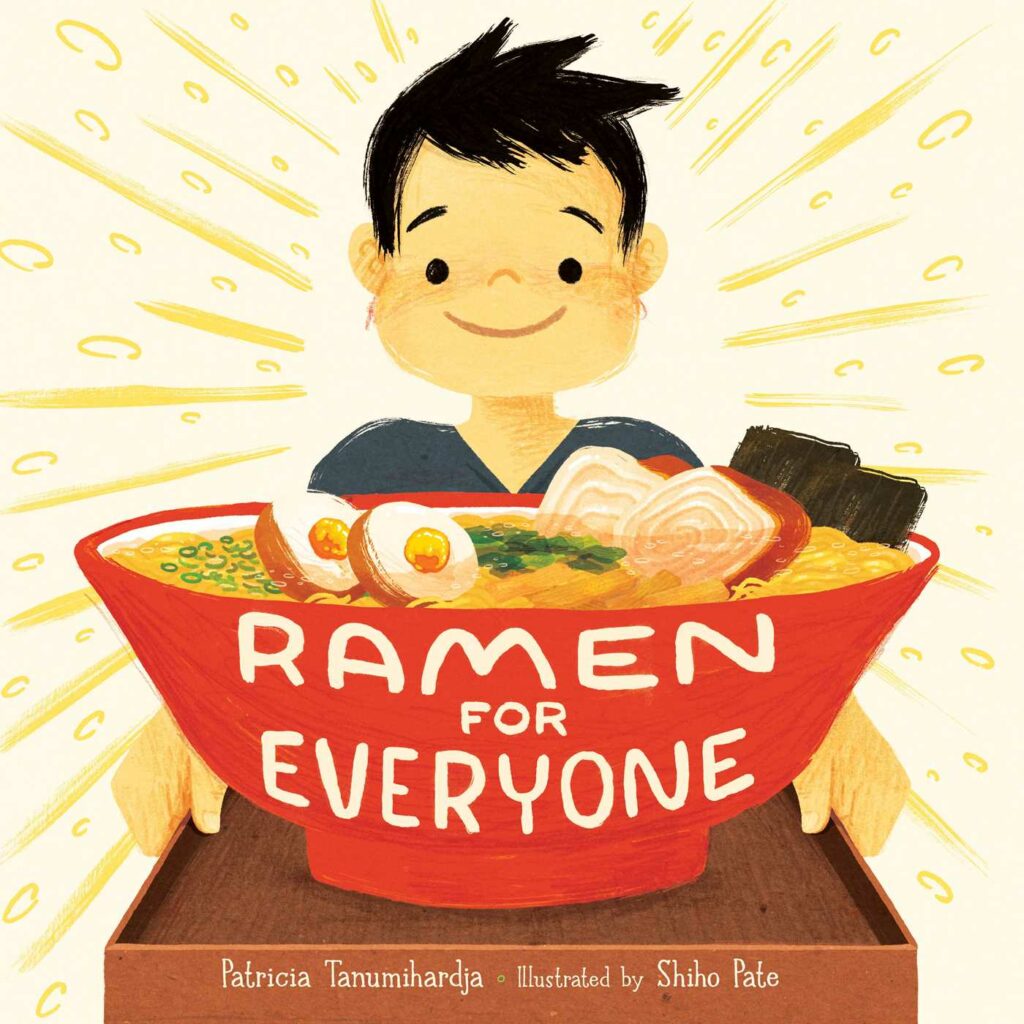 Hiro's dream is to make his own perfect bowl, and he's sure he can do it after watching his dad and taking notes. But when he gets started, things don't go according to plan. The seaweed crumbles! The eggs slip through his fingers! The pork falls apart! Hiro is worried he'll never be a real ramen chef…but thanks to his father's wise advice and his own creativity, Hiro discovers that every person's perfect bowl of ramen is unique.
Book 2: Spicy Spicy Hot!
When Lintang finally gets to taste her nenek's yummy, mouthwatering sambal, she's delighted! But when she takes a bite it's . . . SPICY! Her lips burn, her mouth feels like it's on fire, and her taste buds are crying for help. Desperate to fit in with her family, Lintang tries many different types of sambal, but they're . . . HOT!
With a little help from Nenek, will Lintang find a way to beat the heat and connect with her Indonesian heritage?
Educational Activities:
Ramen for Everyone:
Writing Activity: A simile is a phrase that compares two things using the words "like" or "as." "Ramen for Everyone" has similes that take a food and compares it to something else. Some examples: "nori seaweed, briny like the ocean" and "nitamago egg, the yolk golden like the sun." Can you come up with your own similes using your favorite foods? Here are two ideas to get you started.
Dumplings in the steamer, puffed like __________________
Fresh-picked apple, red as ______________
Coloring Activity: click on link below
Spicy Spicy Hot!
Both Books:
Both books are about intergenerational relationships. Who in your family do you share a special bond with? What family recipe would you like to make together with them? Draw and color this dish. Then cook this dish with them and ask these questions while you cook together:
How/from whom did you learn to make this dish?
How old were you?
Why is this dish special to you?
Do you make this dish for a special occasion?
Do you have any fun stories associated with this dish?
MEET THE AUTHORS/ILLUSTRATORS: