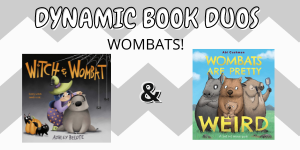 Please welcome authors Ashley Belote and Abi Cushman to Dynamic Book Duos– a blog featuring two books that pair together in a meaningful way along with coordinating educational activities to strengthen reading skills. This week's Dynamic Book Duos pairing is all about wombats.
PERFECT PAIR: Wombats!
Witch & Wombat by Ashley Belote and Wombats Are Pretty Weird: A [Not So]
Serious Guide by Abi Cushman both feature the very unique, very adorable Australian
marsupial known as the wombat. Not only do both books share scientific facts about the
specialized characteristics of wombats, including cube-shaped poop and backward pouches,
they also convey the importance of having an open mind and the message that being different is
something to be celebrated.
Book 1: Witch and Wombat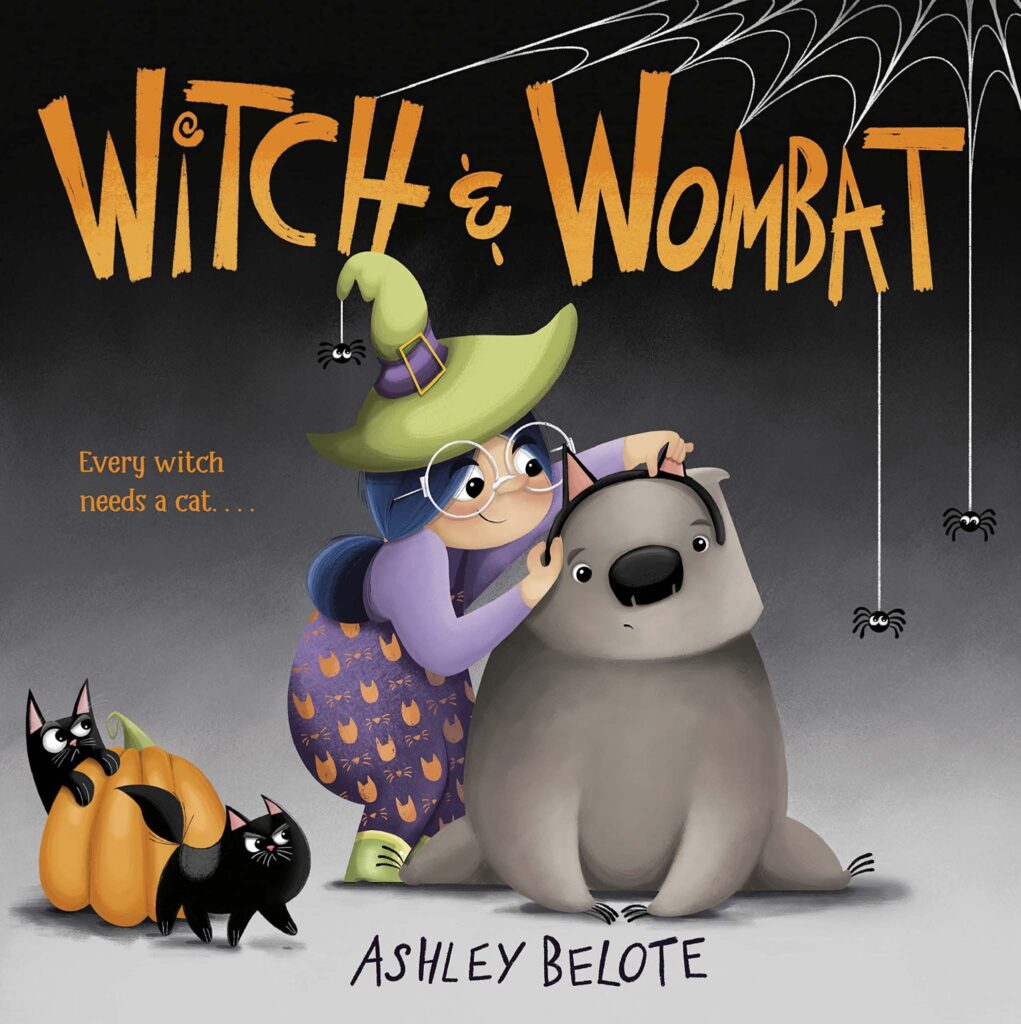 Every witch will want a wombat after reading
this humorous picture book perfect for little
readers who want a new pet!

Wilma, a young witch, cannot wait to get her very
first cat! But when the pet store is fresh out of
kittens, Wilma brings home. . . a wombat?! What
a CAT-astrophe! A wombat is nothing like a cat,
but maybe if Wilma puts cat ears on the little
critter, no one will notice. . . . (Spoiler alert: they
do.)
This bright and fun picture book teaches young witches that our differences can be our
strengths when we have an open mind!

Book 2: Wombats Are Pretty Weird: A [Not So] Serious Guide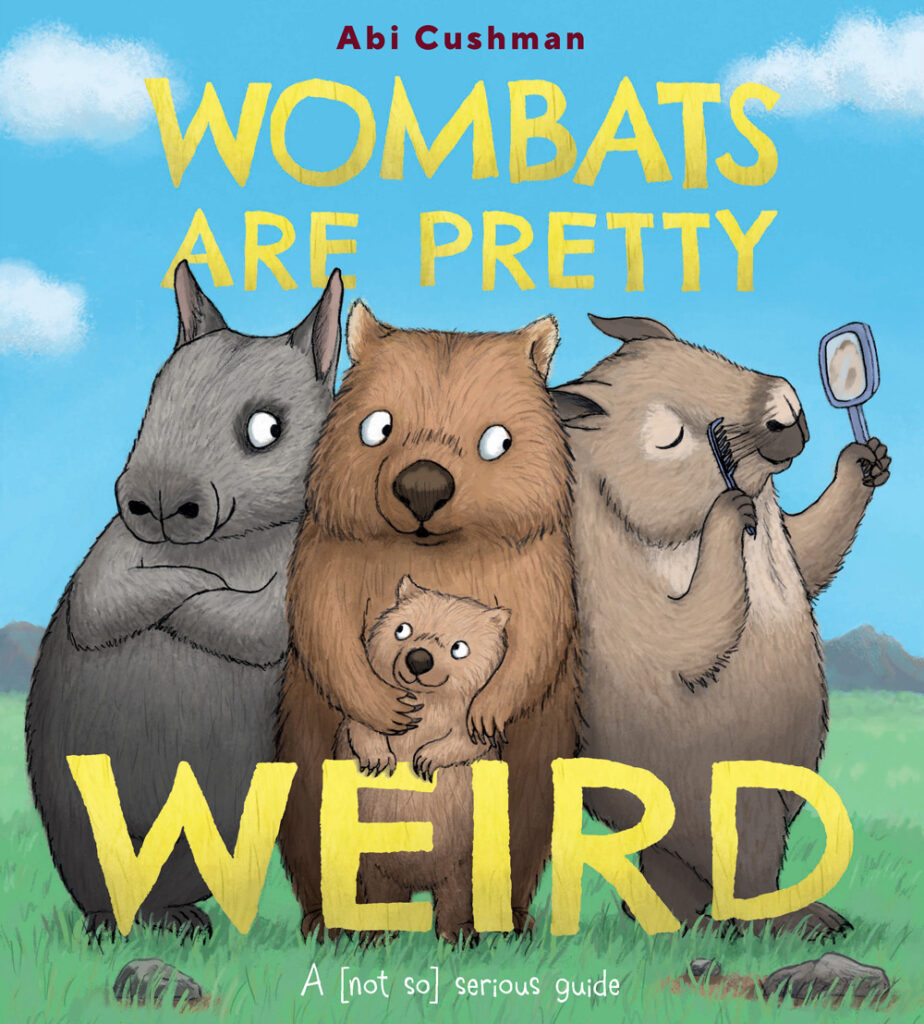 Wombats might be pretty weird, but they're
pretty awesome, too! Wombats Are Pretty
Weird is funny, kid-friendly, and informative,
and features sidebars, comic panels,
extensive backmatter, and a map. Acclaimed
author-illustrator Abi Cushman's nonfiction
debut contains everything anyone could ever
possibly want to know about wombats!
Wombats are elusive, burrowing marsupials. Their teeth never stop growing, they have
backward-facing pouches, and they're the only animal to have cube-shaped poop. And if you
ask their snake friend, Joey, those aren't the only things that are weird about wombats!

Abi Cushman's Wombats Are Pretty Weird contains informative, expressive, and funny
illustrations, and offers an entertaining blend of narration, sidebars, speech balloons, and
dialogue between Joey the snake and the wombats he meets in the wild. A refreshing departure from traditional informational books, Wombats Are Pretty Weird is a child-friendly guide to understanding the weird and wonderful world of wombats. Features extensive backmatter, including a glossary.
EDUCATIONAL ACTIVITIES:
Activities for Witch and Wombat: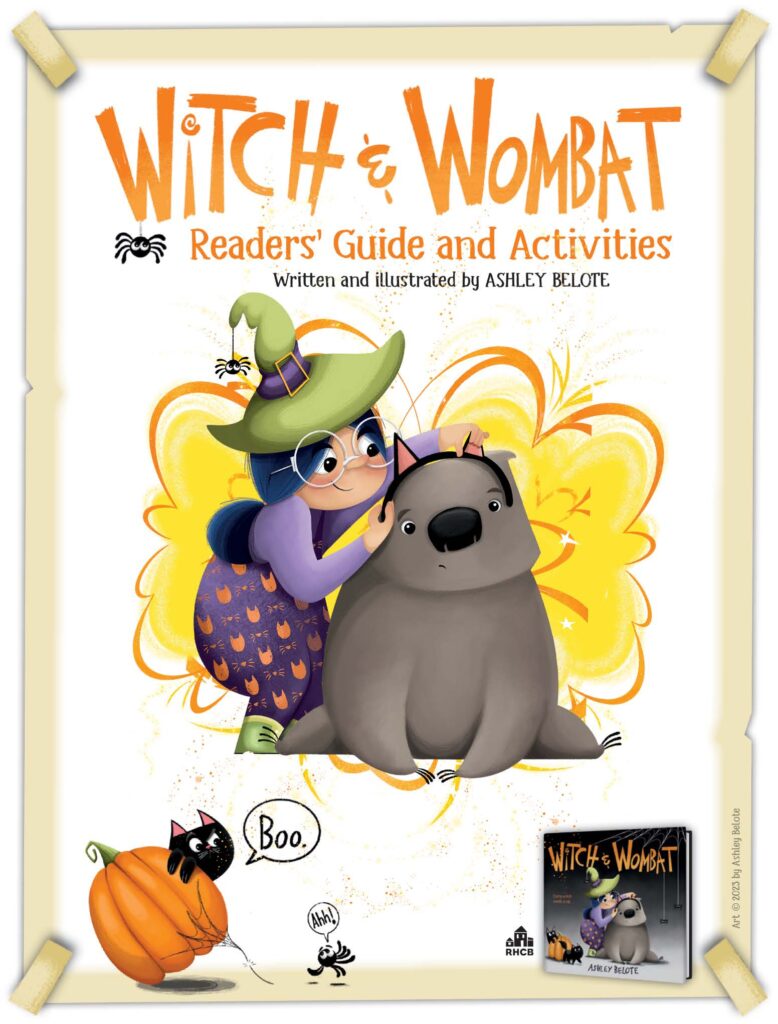 Activities for Wombats Are Pretty Weird: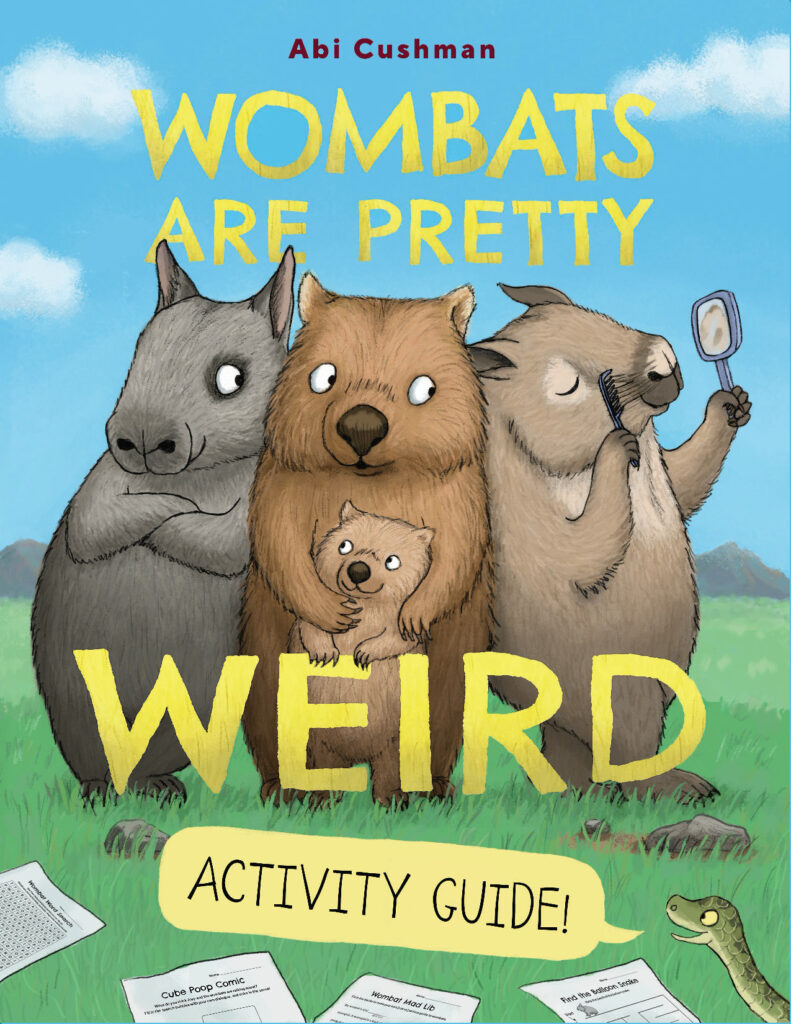 Activities for Both Books:
Wombat Acrostic Poem
Write an acrostic poem about wombats. Begin each line of your poem with the letter on that line.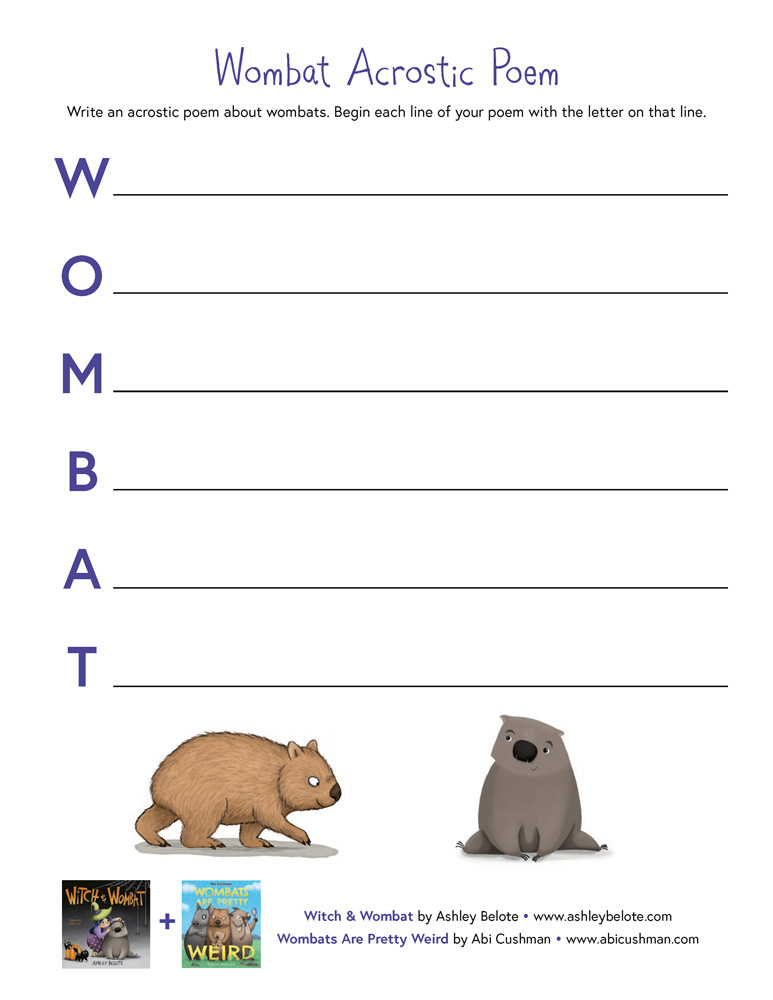 Wombat Drawing Activity: Complete the Scene
The wombats from Witch & Wombat and Wombats Are Pretty Weird are brewing something in
the cauldron. What are they making? Fill in the scene with more characters and decorations!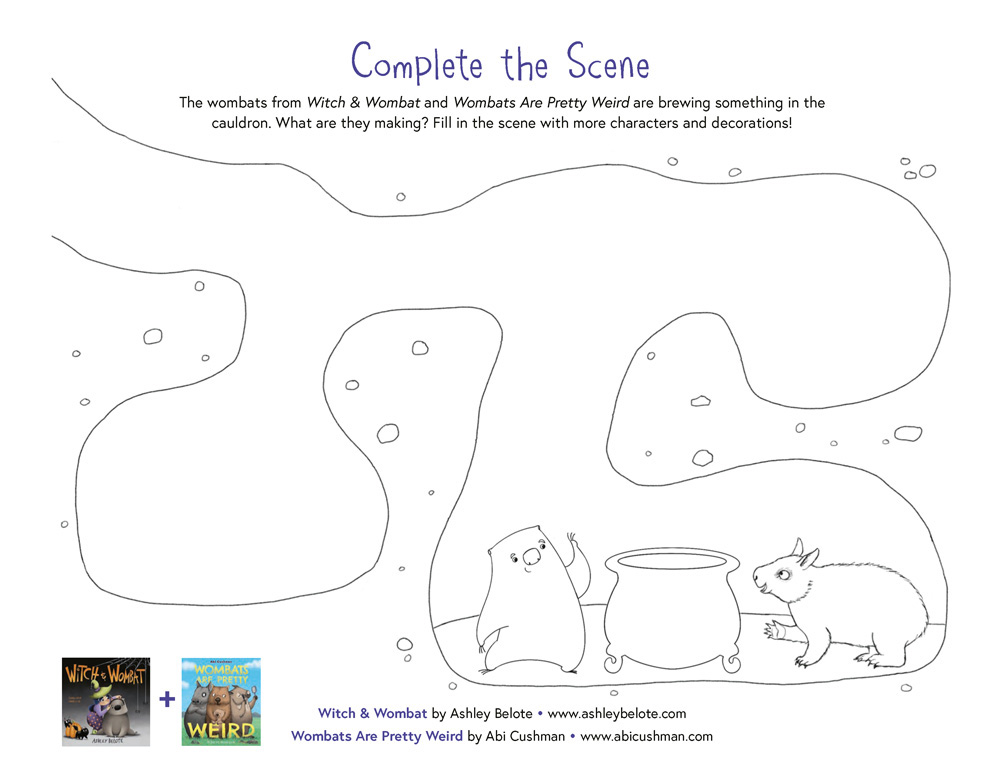 Wombat Bingo
Read Witch & Wombat by Ashley Belote and Wombats Are Pretty Weird by Abi Cushman. Mark
the square when you read or hear each fact.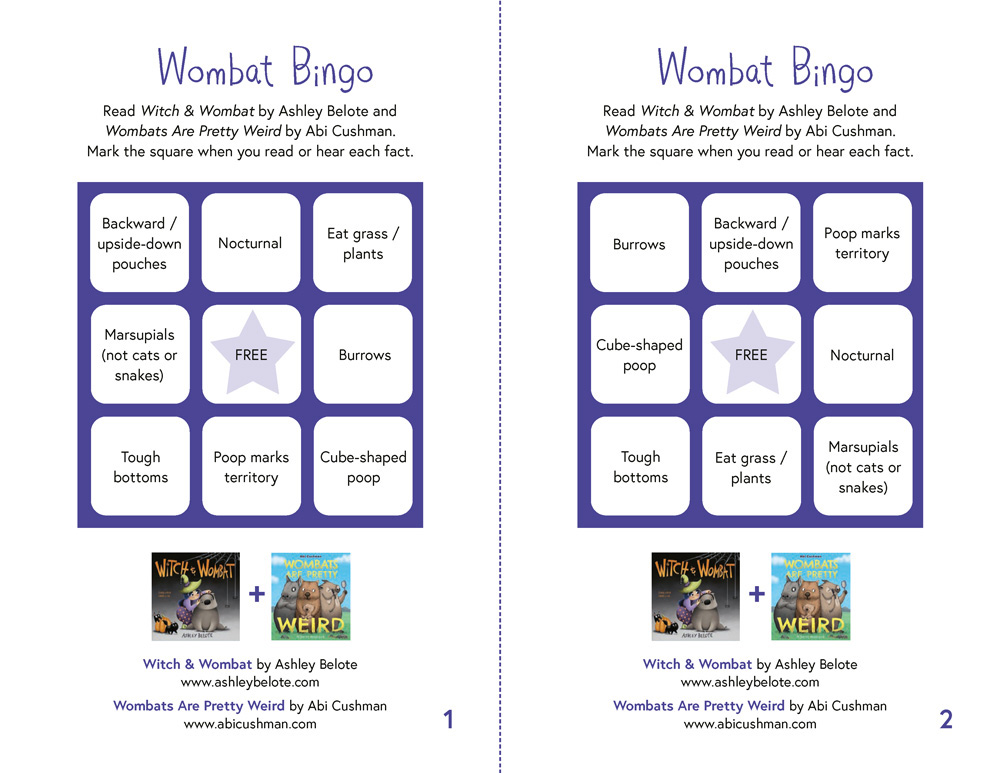 Wombat Paper Plate Mask Craft: Choose Your Own Nose
Make your own wombat mask! Choose between two different noses to make your mask a
common wombat or a hairy-nosed wombat.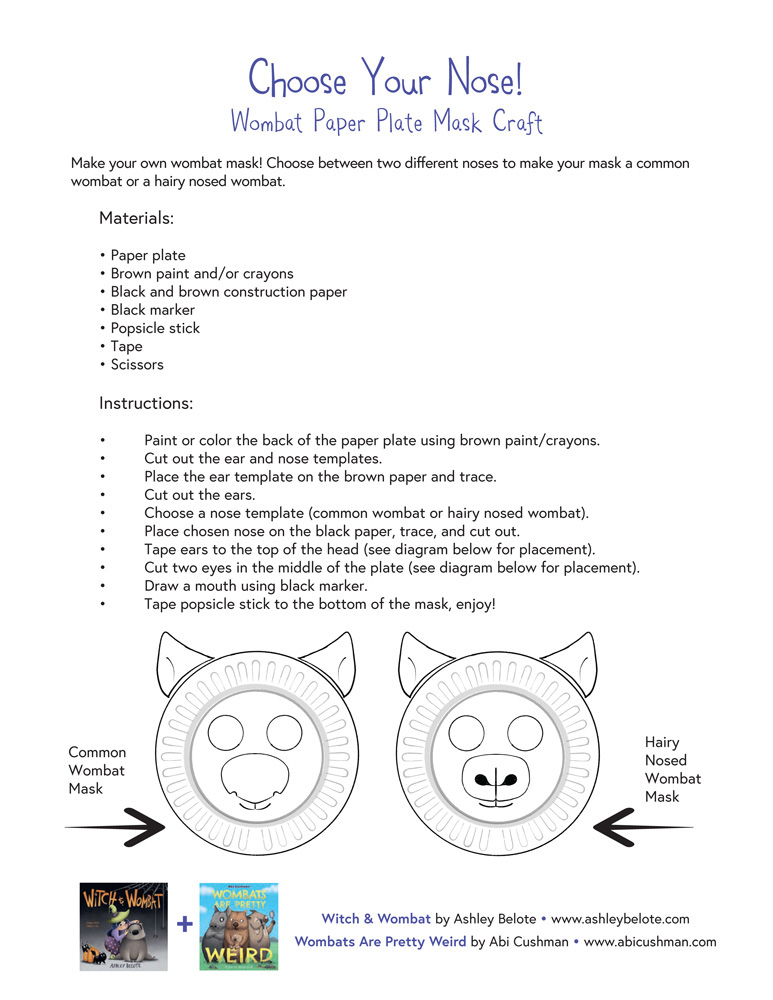 MEET THE AUTHORS: