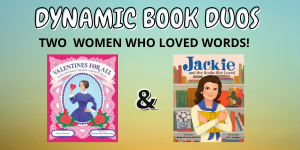 Please welcome authors Nancy Churnin and Ronni Diamondstein to Dynamic Book Duos – a blog featuring two books that pair together in a meaningful way along with educational activities to strengthen reading skills. This week's pairing focuses on two independent women who loved language and words.
PERFECT PAIR: Two Women Who Loved Words
Both Jackie and the Books She Loved written by Ronni Diamondstein and illustrated by Bats Langley and Valentine's For All: Esther Howland Captures America's Hearts written by Nancy Churnin and illustrated by Monika Roza Wisniewska are about two women who: loved language and words, loved poetry, were independent and confident, didn't have to work, but did by choice, and had the tradition of sharing a special day in a creative way with words.
Book 1: Jackie and the Books She Loved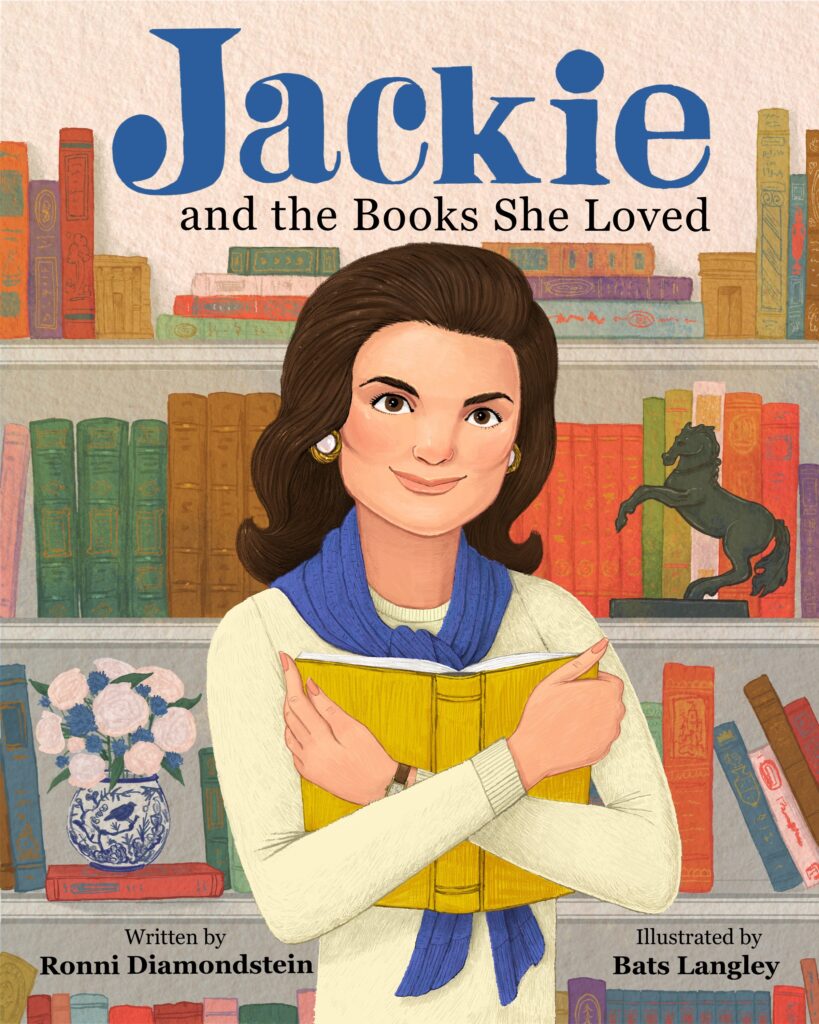 Discover a delightful new story about Jacqueline Bouvier Kennedy Onassis, one of the most famous women in the world. History remembers Jackie Kennedy as the consummate First Lady, especially for her White House restoration and the cultural events she instituted during her husband's administration. Jackie was on the world stage in 1963 when President Kennedy was assassinated. She led the nation in grieving the fallen leader with grace and dignity.
In this inspirational celebration of reading, Ronni Diamondstein with her engaging writing style introduces readers to an independent and confident Jackie, and how books guided her life. The insightful picture book biography paints the portrait of a child captivated by reading and a love of literature and writing–from five-year-old Jackie reading Chekhov stories and shushing her friends to be quiet so that she can read at Miss Porter's School, to her desk as an editor in the last two decades of her life.
Jackie never wrote a memoir but revealed herself in the nearly 100 books she brought into print. Jackie and the Books She Loved is a dazzling book about the real woman behind this American icon of style and grace brought to life by the whimsical and tasteful artwork of Bats Langley.
Book 2: Valentine's For All: Esther Howland Captures America's Hearts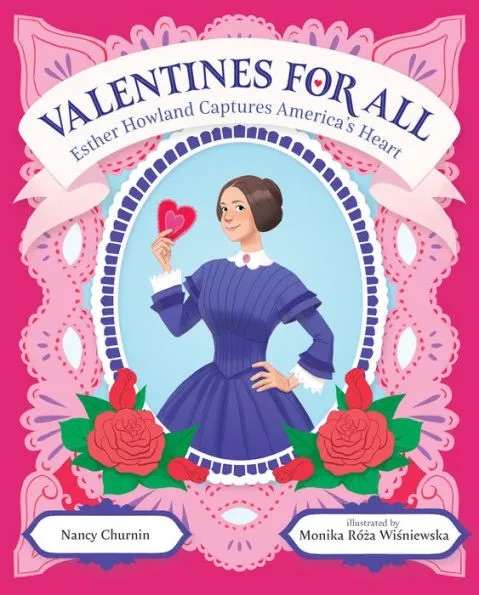 When Esther Howland was growing up in Worcester, Massachusetts in the early 1800s, most Americans thought Valentine's Day was a waste of time. But when Esther's father gave her a fancy valentine card he'd brought home from England, she could feel the love he had trouble using his words to say. She wondered if she could help others express themselves in the same way. She invited her friends to come to her home to help. Soon, Esther launched America's first valentine card company, giving people a way to share feelings and changing the way Americans celebrated this holiday.
This true story, illustrated by Monika Roza Wisniewska, and researched with the help of the Worcester Historical Museum, shows how and why valentine's day cards grew in popularity over the Civil War and encourages kids to write their own poems and make their own cards.
EDUCATIONAL ACTIVITIES:
Activities for Valentine's For All: Esther Howland Captures America's Hearts:
Express Your Feelings! Think about somebody you know – a friend, a teacher, a family member – and try to write what you feel about them. Have patience with yourself as you search for the right words. Sometimes it can take a while! Draw or paste pictures or add stickers that show your feelings, too.
Make it a Group Project! Esther knew she couldn't create all the cards she wanted to give by herself. She created an assembly line with her friends. Team up with your class or service group to create cards to cheer people you don't know – seniors at a retirement home, soldiers serving our country, patients in hospital, helpers that don't often get thanked.
Try Different Poetic Forms: There are many fun kinds of poetry you can try when you write. Experiment with haiku, acrostic, concrete/shape poems, ballad/stanza poems, clerihew poems and more.
HAIKU have three lines of five syllables, seven syllables and five syllables.
In ACROSTIC poems, the first letter of each line is uppercase and forms a word with the word being the subject of the poem.
In CONCRETE/SHAPE poems, the words form the shape of the object and describe it with the description filling the shape or outlining it.
A BALLAD/STANZA poem has four lines with the last word of line two and the last word of line four rhyming.
A CLERIHEW is a funny poem of four lines about a specific person. The first line should end with the name of the person, the end of the second line should rhyme with the name and the end of the third and fourth lines should rhyme.
Activities for Jackie and the Books She Loved:
Write Like Jackie! When Jackie was a little girl she wrote and illustrated poems and stories often about family animals and things she loved. She wrote birthday poems for her mother and father. Her mother collected her early writings that had were handwritten with artistic borders. They were tied together with bits of ribbon or brightly covered string. Write stories and poems like Jackie did!
Be An Inquiring Photographer Like Jackie! Jackie was the Inquiring Camera Girl. She asked people a question and took their photograph. Brainstorm some questions you can ask friends and family.
You'll need a notepad, pencil, or pen and a camera.
Be a Journalist Like Jackie! Jackie wrote news articles when she was covering Queen Elizabeth II's coronation in 1952 for. Want to be a reporter like Jackie? Follow these steps to writing your news article.
Activities for Both Books:
Read both books and discuss
What are the similarities? What are the differences?
How are Jackie and Esther Howland alike? How are they different?
How did each character affect, change, or help others?
Create a greeting card of your choice!
Write a poem for someone's birthday or a holiday (i.e., Valentine's Day, Thanksgiving, New Year's Day)
Design a card with your own illustrations.
Design Your Own Bookmark
Create a bookmark with a theme, saying or a poem.
Have fun!
MEET THE AUTHORS: