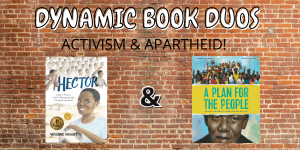 Please welcome authors Lindsey McDivitt and Adrienne Wright to Dynamic Book Duos– a blog featuring two books that pair together in a meaningful way along with coordinating educational activities to strengthen reading skills. This week's Dynamic Book Duos pairing focuses on activism and apartheid.
PERFECT PAIR: Activism and Apartheid – Ending Apartheid in South Africa
Two books based in apartheid-era South Africa are told from very different perspectives: A Plan
for the People: Nelson Mandela's Hope for His Nation by Lindsey McDivitt (illus. by Charly
Palmer) and Hector: A Boy, A Protest and the Photograph that Changed Apartheid written and
illustrated by Adrienne Wright. Young readers will gain tremendous insights into the power of
activism, and apartheid—the cruel, complex system of laws created by South Africa's white
government to control people of color.

Nelson Mandela was part of a long-fought struggle to end racial injustice, even from his jail cell.
Hector Pieterson, an ordinary twelve year old boy in Soweto, South Africa, was tragically shot
when caught up in a peaceful protest by Black school children.

Young Hector, his family and the famous President sacrificed much in the struggle to end
apartheid. But their stories are reminders of people's abilities to change.
Book 1: A Plan for the People: Nelson Mandela's Hope for His Nation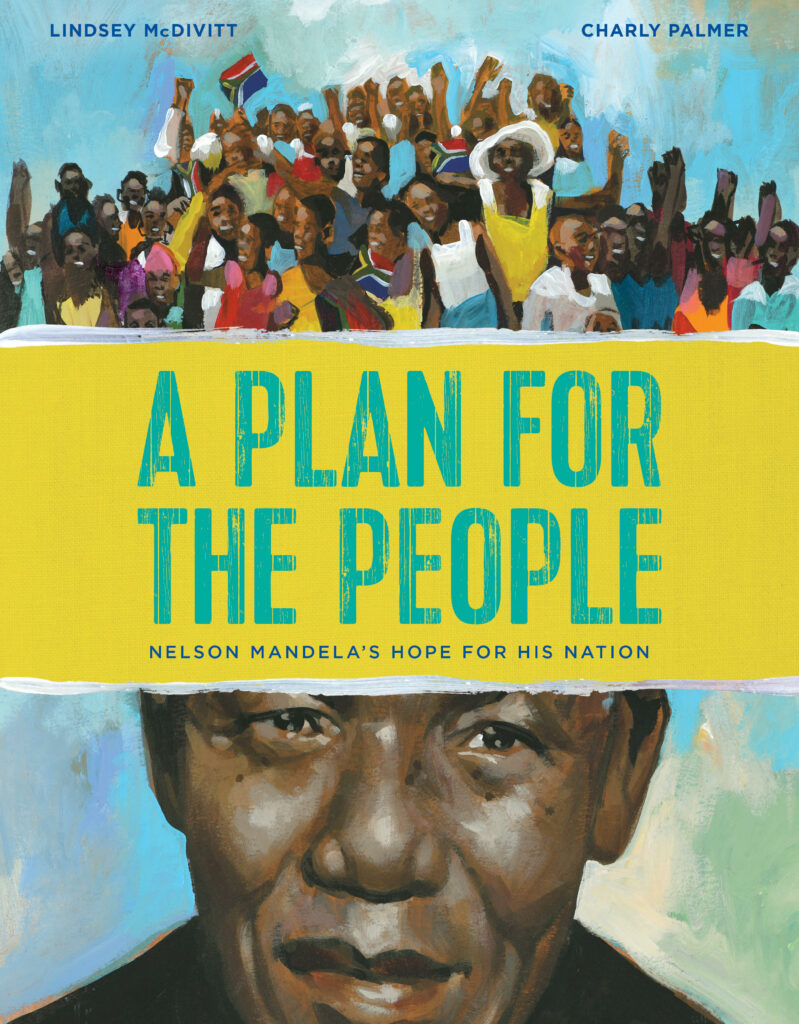 As Nelson Mandela lived and worked under apartheid, his desire for freedom grew. South Africa separated people by race, oppressing the country's non-white citizens with harsh laws. Every day filled Mandela with grief and anger. But he also had hope—hope for a nation that belonged to everyone who lived in it—people of all colors.

From his work with the African National Congress, through his 27 years in prison, to his
extraordinary rise to the presidency in 1994, Nelson Mandela was a rallying force against
injustice. A Plan for the People explores Mandela's fight for equality and the courage that
propelled him through decades of struggle. Illustrated in the bold, bright colors of South Africa, A Plan for the People captures the spirit of a leader beloved around the world.
Book 2: Hector: A Boy, A Protest and the Photograph that Changed Apartheid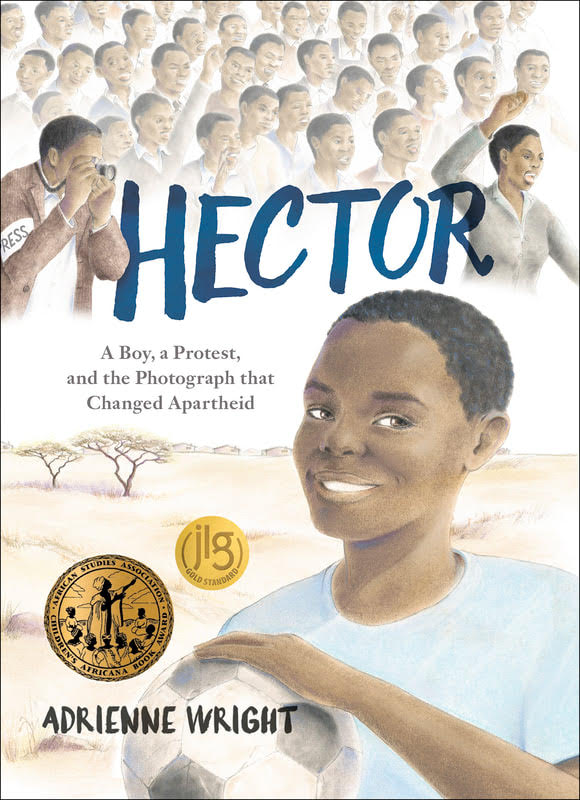 On June 16, 1976, Hector Pieterson, an ordinary boy, lost his life after getting caught up in what
was supposed to be a peaceful protest. Black South African students marched for fair and equal
education. The story's events unfold from the perspectives of Hector, his sister, and the
photographer who captured their now famous photo in the chaos.

Heartbreaking yet relevant, this powerful story gives voice to an ordinary boy and sheds light on
events that helped lead to the end of apartheid. Its graphic novel style and mixed media art
portray the vibrancy and grit of Hector's daily life and untimely death.
(*Note: Sensitive material—the actual tragic photograph is included in the book. The book is formatted to be
accessible to all ages, but the depth of the discussion may vary depending on the age of the
reader.)
Educational Activities:
Activities for A Plan for the People: Nelson Mandela's Hope for his Nation:
After finishing the book, search out the extensive information in the back of the book. Read the
author's note by Lindsey McDivitt, and also the note by illustrator Charly Palmer.

–Next discuss the dramatic changes in South Africa since the nation's first fully democratic
election in 1994. How has it changed? Did Nelson Mandela live to see the "plan for the people"
come true?

–Nelson Mandela once said, "No one is born hating another person because of the color of his
skin. People must learn to hate, and if they can learn to hate, they can be taught to love, for love
comes more naturally to the human heart than its opposite." Review the text of the story. Where
can you find evidence Mandela's belief affected his actions? What did he do over the years?
Activities for Hector: A Boy, A Protest and the Photograph that Changed Apartheid:
"Persuasive writing is a form of peaceful, intellectual protest. When it is done well, it can cause
important changes in a safe way. What do you want to change? Choose a topic and write an
essay that will persuade your readers to see your point of view. Use your pen to honor Hector's
memory and make a positive change."
Activities for Both Books:
Hector's mother, Mrs. Dorothy Molefi and Nelson Mandela had a great respect and admiration
for one another. While imprisoned on Robben Island, Nelson Mandela heard about the shocking
death of Hector Pieterson. Mrs. Molefi long admired Mandela's strength as he searched for ways
to free the nation from apartheid. They would eventually meet at the museum and memorial
named for her son, Hector.

–Search out an adult or young person who is trying to change something in your community.
List questions you can ask them about their efforts, then contact them to ask for a brief interview.
Is there something in your community or the world you would like to change? Ask what advice
they can share.
Meet the Authors: