Please welcome authors Suzy Levinson and Susan Johnson to Dynamic Book Duos– a blog featuring two books that pair together in a meaningful way along with coordinating educational activities to strengthen reading skills. The theme for this week's Dynamic Book Duos pairing is celebrating animals through poetry.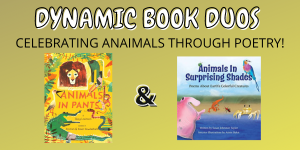 PERFECT PAIR: Celebrating Animals Through Poetry
Animals in Pants written by Suzy Levinson and illustrated by Kristen and Kevin Howdeshell and Animals in Surprising Shades: Poems About Earth's Colorful Creatures written by Susan Johnston Taylor and illustrated by Annie Bakst show young readers that just like animals, poems can come in a great variety of fascinating forms. Both of these PB-poetry collections explore and celebrate the wide (and weird!) animal kingdom.
Book 1: Animals in Pants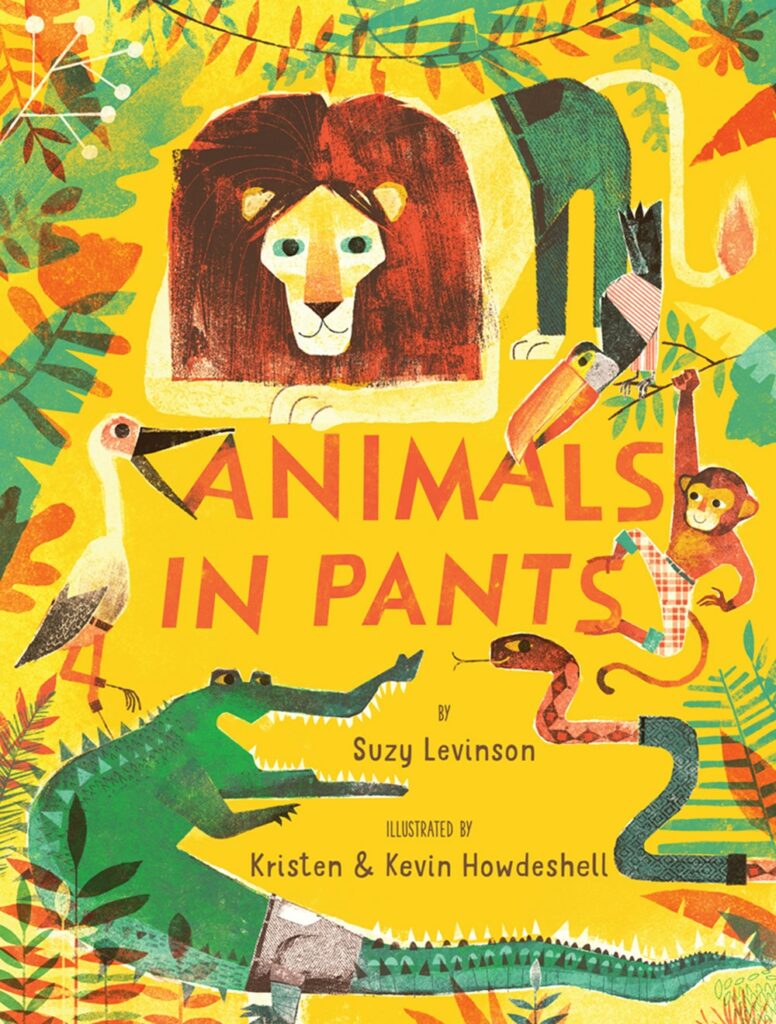 An irreverently illustrated picture book of simple and silly poems featuring all kinds of animals wearing all kinds of pants!
What? You've never seen animals in pants? A dog in yoga pants, a goat in overalls, a yak in slacks? Animals in Pants presents a parade of impeccable poems about animals wearing perfectly pressed pants.
Book 2: Animals in Surprising Shades: Poems About Earth's Colorful Creatures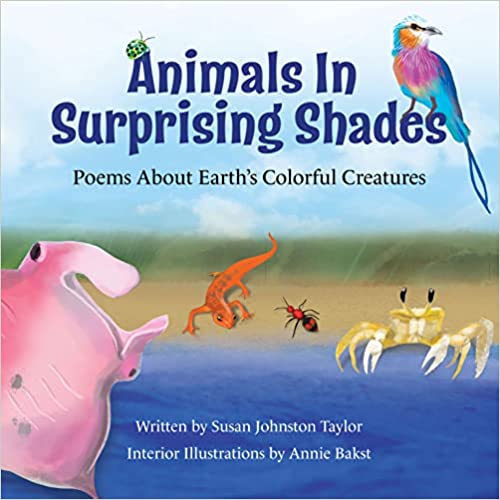 Readers discover fascinating colorful creatures throughout the world in this collection of STEAM-themed poems that doubles as an introduction to kid-friendly poetic forms. Perfect for science, LA/writing and social science classrooms, and to showcase nature's amazing artwork.
EDUCATIONAL ACTIVITIES:
Activity 1: ACTING OUT
Have students read a few poems and write down as many verbs as they can find. For instance, in Animals in Surprising Shades: Poems About Earth's Colorful Creatures a ghost crab "slinks away from hungry birds" and in Animals in Pants, a raccoon "feasts on foodstuffs." How might they act out these verbs? What would they do with their bodies if they pretended to be that ghost crab or raccoon? What other verbs can they find?
Activity 2: POETRY TREASURE HUNT!
Let's go on a poetic treasure hunt! Have your class search through both picture books for examples of:
· A rhyming poem (which utilizes meter and a rhyme scheme)
· A poem in free verse (which does not utilize meter and a rhyme scheme)
· Internal rhyme
· Alliteration and assonance
· Onomatopoeia
· Metaphor and simile
· Poems in first, second, and third person
[Note: These treasure hunts can be adjusted according to age group!]
Activity 3: POETRY PROMPT MASH-UP!
Let's get creative! In one jar, place scraps of paper with different kinds of animals written on them. In another jar, place more scraps of paper, some with different colors and some with different styles of pants. Students select a scrap of paper from each of the two containers—no peeking! Once each student has an animal from the first jar and a color or pants style from the second jar, it's time to write a poem using both topics! That's right…mash 'em up!
MEET THE AUTHORS: