Please welcome authors Hilda Eunice Burgos and Terry Catasús Jennings to Dynamic Book Duos– a blog featuring two books that pair together in a meaningful way along with coordinating educational activities to strengthen reading skills. This week's Dynamic Book Duos pairing features immigrant communities taking care of one another.
PERFECT PAIRS: Immigrant Communities Taking Care of One Another!
The Cot in the Living Room written by Hilda Eunice Burgos and illustrated by Gary D'Allesandro and The Little House of Hope written by Terry Catasús Jennings and illustrated by Raúl Colón tell stories about members of immigrant communities taking care of one another. When they see someone who needs a helping hand, they give it.
Book 1: The Cot in the Living Room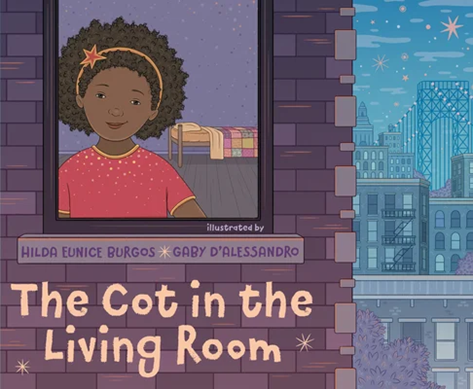 Night after night, a young girl watches her mami set up a cot in the living room for guests in their Washington Heights apartment, like Raquel (who's boring) and Edgardo (who gets crumbs everywhere). She resents that they get the entire living room with a view of the George Washington Bridge, while all she gets is a tiny bedroom with a view of her sister (who snores). Until one night when no one comes, and it's finally her chance! But as it turns out, sleeping on the cot in the living room isn't all she thought it would be.
With charming text by Hilda Eunice Burgos and whimsical illustrations by Gaby D'Alessandro, The Cot in the Living Room is a celebration of the ways a Dominican American community takes care of one another while showing young readers that sometimes the best way to be a better neighbor is by imagining how it feels to spend a night sleeping on someone else's pillow.
Book 2: The Little House of Hope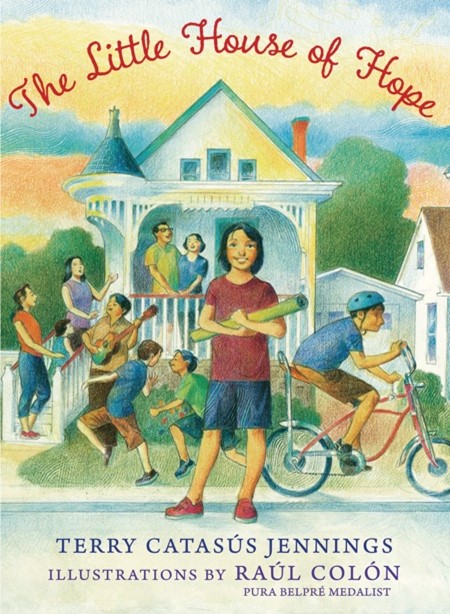 To turn a shabby little house into a welcoming home, all it takes is a big-hearted family eager to help others. . . and a little hope. La casita offers a home for those who don't have anywhere to go. It's a safe place in a new land, and Esperanza is always the first to welcome them. An inspiring, semi-autobiographical story of how immigrants can help each other find their footing in a new country, accompanied by the rich and vivid illustrations of award-winning artist Raúl Colón. (In English and Spanish.)
Educational Activities
Activities for Both Books Focusing on Immigrant Communities
These are two books that deal with immigrant communities helping one another out. Why do people emigrate? What are the reasons they feel they have to leave their countries and come live in another? What happens once an immigrant is in a new country? Immigration is a universal experience. It really doesn't matter where you come from, and where you end up living, the issues of poverty, having to adapt to a new way of life, not knowing the language, are part of the immigrant experience.
Activity 1: Ask students to reach back into their family's history.
Questions:
Who was the first immigrant in your family?
Why did that person come to the United States?
What difficulties did they face after they arrived?
Did anybody help them?
Activity 2: Ask students to put themselves in the immigrant's shoes, choose one or more of these topics and then write a story from the point of view of an immigrant or of a helper.
What would it be like to be an immigrant:
What would you do:

If you didn't feel safe in your country?

If you didn't have food in your country?

What would you miss the most if you had to leave your home for another country?
How would you feel:

If you had to leave loved ones behind?

if everyone around you were speaking a different language and you didn't understand any of it?

if people didn't feel you were as good as them only because you couldn't speak like them or didn't look like them?

if all the clothes you had were different than what the kids at your school wore?

What could you do:

If you didn't have a place to sleep?

If your parents didn't have a job?

If you had to go spend time with strangers because your parents had to go to work and couldn't keep you?

Now think about how you would feel:

if someone gave you a friendly helping hand?

What could you do:

If you met someone who was new to your community?

If you knew someone whose parents didn't have money to buy them toys?

If a friend felt sad because they missed their family?
Activities for The Cot in the Living Room
Activities for The Little House of Hope
Meet the Authors