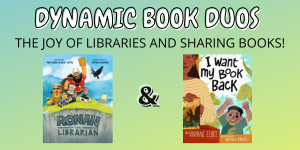 Please welcome authors Viviane Elbee and Tara Luebee and Becky Cattie to Dynamic Book Duos– a blog featuring two books that pair together in a meaningful way along with coordinating educational activities to strengthen reading skills. This week's Dynamic Book Duos pairing features libraires and the joy of sharing books with others!
PERFECT PAIR: The Joy of Libraries and Sharing Books!
Both I Want My Book Back written by Viviane Elbee and illustrated by Nicole Miles and Ronan the Librarian written by Tara Luebbe and Becky Cattie and illustrated by Victoria Maderna tell stories about libraries and show the joy of sharing books with others.
Book 1: I Want My Book Back
Daryl loves the dinosaur book he checked out from the library; it takes him on roaring, stomping dinosaur adventures! But when Daryl has to return it, he'll do anything to get his favorite book back. Daryl uses all of his dinosaur skills. Fortunately, when a clever librarian notices Daryl's passion, she encourages him to share his favorite book and make some new friends along the way. This playful, silly, funny, tale about reading, books, and sharing is sure to be a hit with any child.
"A splendid story about the satisfaction that comes from sharing joy (and dinosaurs) with others."–Booklist
"Emotions run high in this volume about a child's deep attachment giving way to sharing… Elbee's take on the emotional attachment that readers form with books feels apt, and a final portrait of Daryl discovering that books can be shared pays ample tribute to libraries." — Publishers Weekly
"The book's fun illustrations emphasize Daryl's big and scary emotions, including distress, grumpiness, rage, and despair; solace is to be found only somewhere unexpected: in sharing."–Foreword Reviews
Book 2: Ronan the Librarian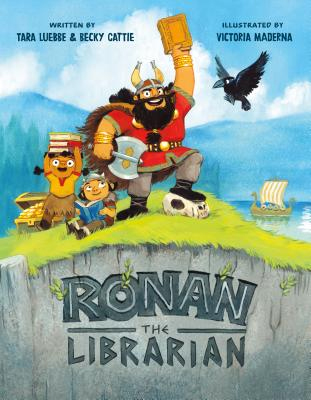 This humorous picture book from sister duo Tara Luebbe and Becky Cattie and illustrator Victoria Maderna follows Ronan the Barbarian as he grows from being just a rough-and-tumble warrior to Ronan the Librarian–a rough-and-tumble warrior who loves books.
Ronan was a mighty barbarian.
He invaded. He raided. And back home, he traded.
He always found the greatest treasures.
Until one day, Ronan found something no barbarian wants: A BOOK.
At first, his fellow barbarians are skeptical of his newfound passion for reading, but in the end, even they aren't immune to the charms of a good book.
EDUCATIONAL ACTIVITIES:
Activities for I Want My Book Back:
Activities for Ronan the Librarian:
Activities for Both Books:
Compare and Contrast
Find 3 things that are similar in both books and 3 things that are different in both books.
Diving deeper into compare and contrast:
How are the main characters the same? How are the main characters different?
What animals can you find in I Want My Book Back? What animals do you see in Ronan the Librarian? What animals do you like?
How does Daryl learn to love sharing books in I Want My Book Back? How do the barbarians learn to enjoy sharing books in Ronan the Librarian? Do you like sharing books with others?
Both books have a read aloud story time. Do you enjoy story time? Why do you think story time is important for some people?
Craft & Share
Have each participant make a little illustrated story book to "share" and read aloud with others. This can be done by folding several sheets of paper in half and stapling the spine together. The "books" can be stored together on a shelf to make a "library."
If you'd like to use a story prompt / story planner with your students:
Brainstorm 2 main characters and an item that the characters need to share. (This item can be a book, but it could also be a toy, a tool, food, a room, etc…) Think about a setting that these characters might be in. (Is it a library? A big open field? A kitchen?) Now brainstorm some problems that these characters might have with sharing. (Maybe they don't want to share. Or maybe they want to share a book but a goat keeps coming and eating the book they wanted to share.) How might these characters work towards solving these problems? How will the problem be solved in the end?
Now you're ready to write a beginning, a middle and an end to your story.
You'll also want to come up with a title and illustrations.
VARIATION: Each participant can also bring a favorite book to share and discuss what they love most about the book.
MEET THE AUTHORS: