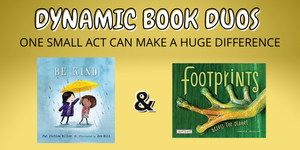 Please welcome authors Jennifer Swanson and Pat Zietlow Miller to Dynamic Book Duos– a blog featuring two books that pair together in a meaningful way along with coordinating educational activities to strengthen reading skills. This week's Dynamic Book Duos pairing focuses on how one small act can make a huge difference.
PERFECT PAIRS: One Small Act Can Make a Huge Difference!
Footprints Across the Planet written by Jennifer Swanson and Be Kind written by Pat Zietlow Miller and illustrated by Jen Hill show young readers that even one small act can make a huge difference. In the case of Pat Zietlow Miller's BE KIND the main character learns that by asking another child to play can make that other person feel valued. Jennifer Swanson's Footprints Across the Planet encourages young readers to consider how every being on the planet leaves an imprint, with their feet, their words, their actions. It begins by showing an elephant's massive imprint and a child's step inside. Both make an impact, although one is seemingly larger than the other. Or is it? Just like BE KIND's main character, the small step of kindness creates a big impact.
Another great idea is that readers of both books will understand that standing up against bullying or standing up in support of others can leave a lasting impact by changing lives. Steps like this changes lives, thoughts, and ultimately makes the world a better place.
While each book approaches the idea of making an impact slightly differently, together they compliment each other in showing just how important and powerful these steps are for the individual and the world. They do this in a positive, uplifting manner that allows readers of all ages to feel that they are able to make their own impact, however big or small.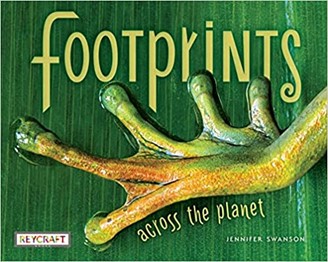 Book 1: Footprints Across the Planet
Journey around the world and experience through these vivid photographs how every being on the planet leaves an imprint, with their feet, their words, their actions. Whether human or animal, voices or activity, each mark has a purpose. To remind us of our history, give us a glimpse of our future, and maybe even inspire us to change the world. 
Every footprint―from the physical to the digital and the permanent to the fleeting―leaves a mark on Earth telling a story of the past, the present, or the future. What type of imprint will YOU leave?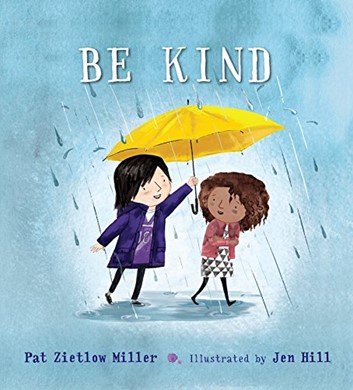 Book 2: Be Kind
When Tanisha spills grape juice all over her new dress, her classmate wants to make her feel better, wondering: What does it mean to be kind?

From asking the new girl to play to standing up for someone being bullied, this moving story explores what kindness is, and how any act, big or small, can make a difference—or at least help a friend.

With a gentle text from the award-winning author of Sophie's Squash, Pat Zietlow Miller, and irresistible art from Jen Hill, Be Kind is an unforgettable story about how two simple words can change the world.
Activities for Educators and Caregivers
Activities for Footprints Across the Planet
Have students do an activity called "Show Me Your Shoes" where students draw pictures of their own shoes and make imprints of the bottoms of them. They can talk about why they chose those particular shoes and how they are useful to them, and maybe why they like them. Then have the students compare and contrast shoes amongst the class. Perhaps introduce shoes from other cultures or environments and talk about why these shoes are different, alike, and important.
Activities for Be Kind
Ask the students if they've done something to help another person. What would that be? How did it make the person feel? How did it make them feel? Discuss ways that helping others can be done as a class. Maybe adopt a classroom pet or project, like making cards for a local assisted living center. Talk about how Being Kind should be a way of life.
Activities for Both Books
Compare and Contrast
Using both books together, compare and contrast steps that people take. In the BE KIND book, it can be actions that the main character takes and how those seemingly small acts of kindness can have big results. In Footprints, consider the steps of exploration (in terms of exploring the Moon and diving deep into the ocean), also the carbon footprint and digital footprint—both of which leave a huge impact on the planet. At the end, ask the students what type of impact they would like to leave. Have them draw images of being kind, of helping others from being bullied, or of their favorite place to explore, or actions they can take to clean up the planet. There are so many ideas to use with students here.
Share your Pet!
Have the students draw a picture of their pet, including its footprints. Talk about the things they do to take care of it. Have them share how it makes them feel and why their pet is important to them. Ask them how they might help a pet who was lost or hungry. And talk about the things they are learning to take care of their pet and how that might help them to take care of others or the environment.
Meet the Authors