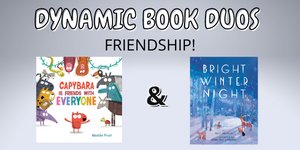 Please welcome author Alli Brydon and author/illustrator Maddie Frost to Dynamic Book Duos– a blog featuring two books that pair together in a meaningful way along with coordinating educational activities to strengthen reading skills. This week's Dynamic Book Duos pairing focuses on friendship.
PERFECT PAIRS:
Bright Winter Night written by Alli Brydon and illustrated by Ashling Lindsay and Capybara is Friends with Everyone written and illustrated by Maddie Frost tell stories about friendships. I could tell you more, but Allie and Maddie say it best!
Our Friendly Q&A:
Alli: Hey, Maddie!
Maddie: Hey right back atcha, Alli!
Alli: Or should we use our usual nicknames for each other?
Maddie: Do you think they're all ready for that?
Alli: Yeah, I think they can handle it.
Maddie: OK! Hey, A!
Alli: Hi, M!
Maddie: Remind me why we thought our two latest picture books pair well for the Dynamic Duos blog?
Alli: Because both books are about friendship and…we're friends! Also, at the end of our books, all the animals are able to revel in their friendship and experience something magical together. Can you walk me through your sweet and funny picture book Capybara is Friends with Everyone, and what led you to write it?
Maddie: Sure! Capybara prides himself for having thousands of friends and feels the need to go above and beyond in order to keep them. He meets a sloth who literally doesn't respond to his gifts or his "New Friend Song" and thinks Sloth doesn't want to be his friend. As anyone would! However we soon find out that is not the case.
Sloth was just taking a long time to get his kazoo FOR the friend song. And Capybara learns a lesson on friendship as well as the perspective of friendship. Just because someone doesn't respond to a wave, or a smile, doesn't always mean they don't like you.
I too, have always felt the need to go hundreds of extra miles for people to like and accept me. With family, with friends. It's exhausting. But over the years I've realized that those who truly care about me don't need anything special, they just need me.
I knew I wanted to take that honest emotion and spin it into a funny story. What about you, Alli? What is Bright Winter Night about and how did you get the idea for this beautiful book?
Alli: First of all, your personal inspiration for writing Capybara totally resonates with me. I am the same way! Maybe that's why we're friends…
To answer your question, the idea for the book actually came from a challenge that a friend of mine set to write a rhyming picture book set in a woodland. The book is about a group of disparate forest creatures that, in reality, would never be "friends" with each other.
But in this book, they all have a common goal: to witness the magic of the Northern Lights, and they all help each other to get there in time. That brings them all together in a big way. I tend to find myself attracted to friends who are a bit different from me and who have unique experiences. I'm drawn to finding common ground with another person.
I am always in awe of nature and the amazing things it can do, so that's where the inspiration for the book came from. Seeing the Northern Lights has been on my bucket list for a long time (still is!) because, to me, it feels like one of the last great mysteries of the world.
Maddie: I love that. I also love our friendship and how it's brought us so close. I remember the day you first emailed me before you became my very first agent. Even through email, I knew right away that it was the start of something special. You were such a mentor to me and still are. I always appreciated how you saw the real me and encouraged me to bring that into my writing.
"Don't lose the wackiness," you always said. I still hear you say that all these years later. I think that's what a good friend does. Sees you for your greatness and weakness and embraces both. Loves both. We live an ocean apart and I never feel the distance. You're always a WhatsApp away and I'm grateful for it.
Alli: Thinking back to that time when we first met (so many moons ago), I remember being really excited to get to work with someone who was obviously so talented and had so many great things to contribute to the children's book landscape.
You hadn't published anything yet, but I could somehow see a long line of successes in your future. You always had the best attitude and spirit as a creator, and as a friend! Even though I'm not your agent any more (or an agent at all), I still secretly hope that one day a publisher will pair us up for a project.
And I love our quirky WhatsApp exchanges! They always make me laugh and feel supported by our friendship. Hey, what do you think our characters would message each other, if they had opposable thumbs and could text?
Maddie: Oooh, even better: what would our characters write to each other on a postcard?
Alli: Great idea!
Alli and Maddie: Hey, everyone reading this—please scroll down to check out the postcard writing activity below!
Book 1: Bright Winter Night (Two Lions/Amazon, Dec. 2022)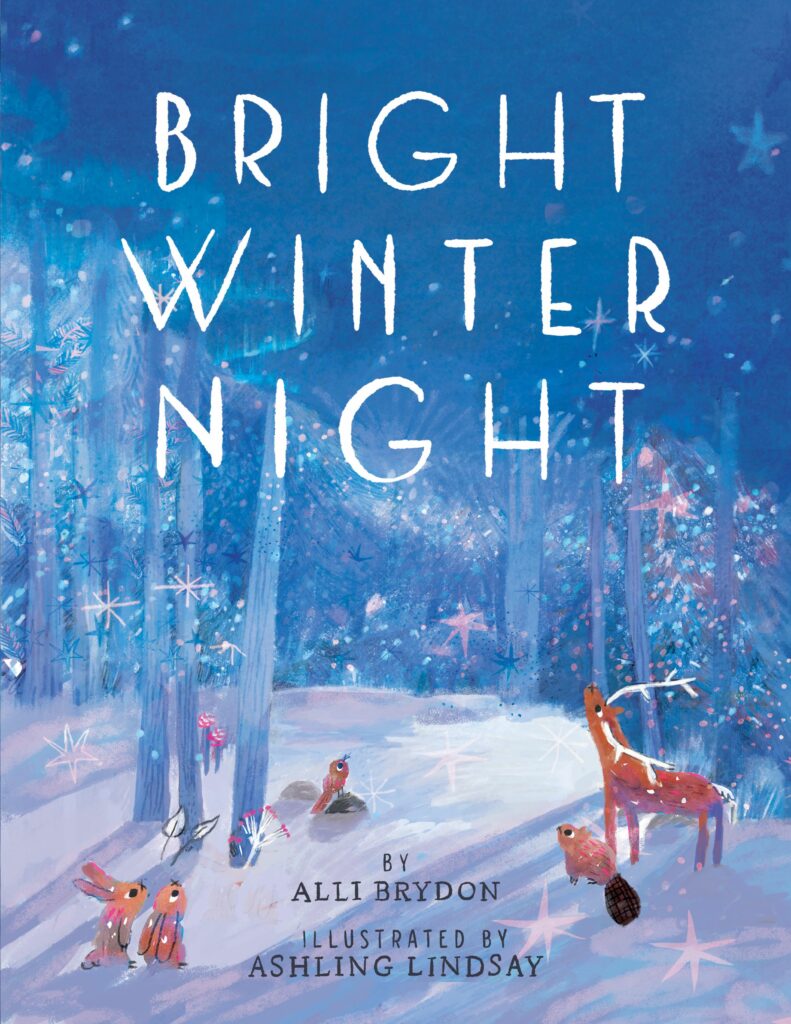 On one bright winter night, a group of woodland creatures emerges from the forest. Despite their differences, they start to build something together, using items found on the forest floor. What are they making? And how quickly can they build it? Something special is happening tonight, and soon the animals are off―in a race to catch a glimpse of one of nature's most astounding wonders!
With lyrical text and sparkling artwork, Bright Winter Night is a celebration of the joy and beauty of nature and the special gift of friendship and togetherness.
Book 2: Caybara is Friends with Everyone (HarperCollins, March 2022)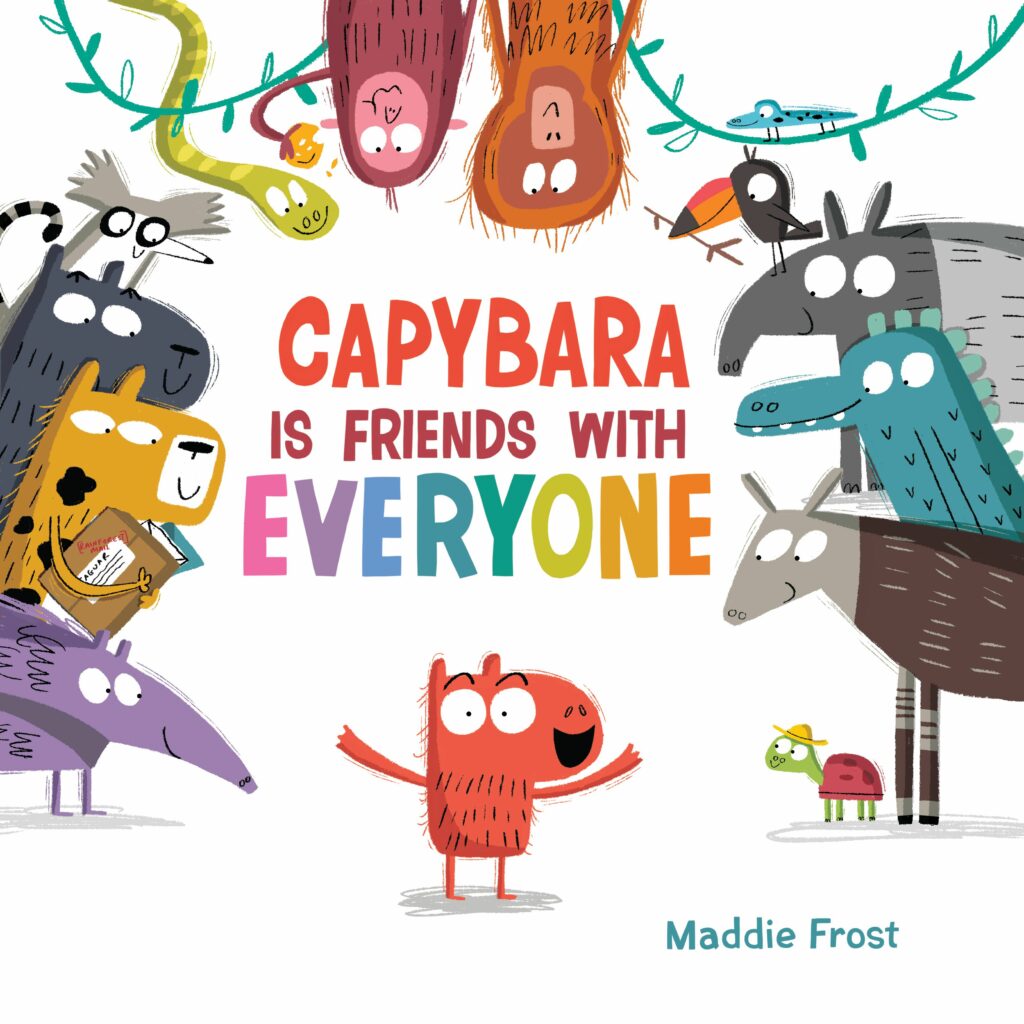 Capybara will do anything for his friends. But it's exhausting—and when Capybara meets a potential new friend who doesn't seem to be responding to his advances, Capybara learns a valuable lesson. His friends like him just for who he is!
This book is an excellent teaching tool for lessons on friendship and creating boundaries within those relationships. It is a funny story for families to share, and a great read-aloud at home or in the classroom!
Postcard Activity
Directions: Imagine what Capybara, from Capybara is Friends with Everyone, might write to Beaver, from Bright Winter Night. They are both large, furry rodents and we could imagine they might be long-distance friends! (Copy and paste the image below to access the postcard activity.)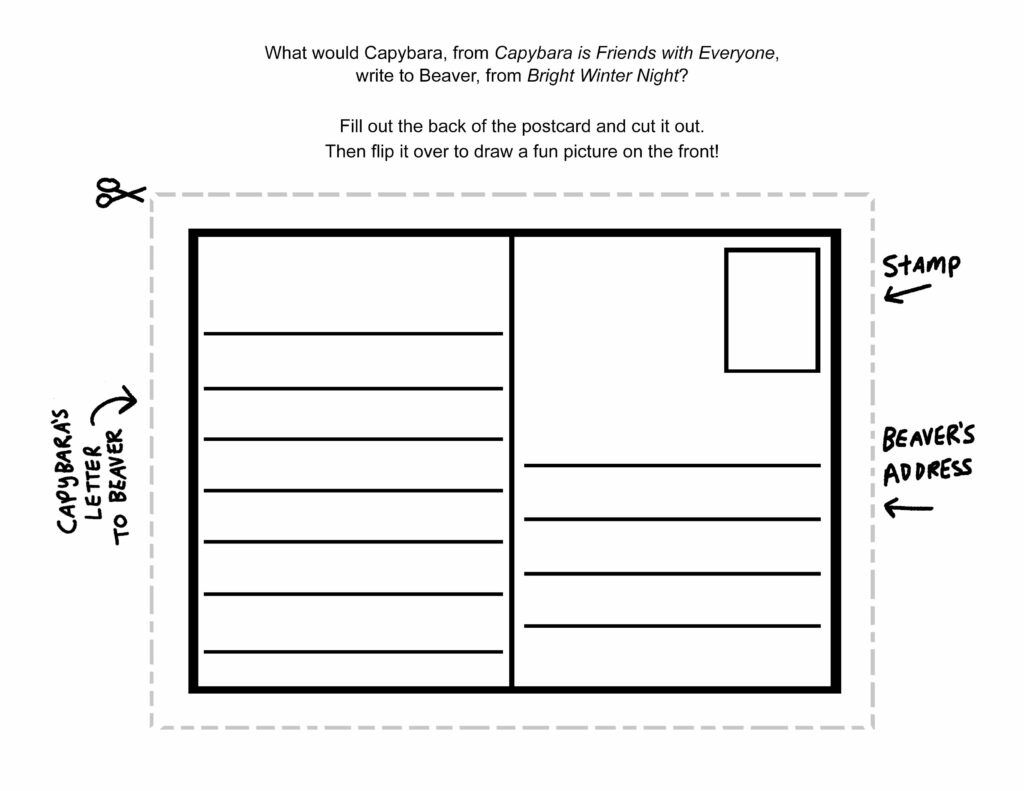 Meet the Authors